Hello, lovely bookworms!!!!
I hope you have had a good day. I am bringing something back this month. Read on and you'll find what? Although if you've read the title then you kind of already know what it's about. Huh, I didn't think ahead. Oh well.
So, last month I did something very ambitious and tried to set a tbr for the month. I wasn't sure I would be successful or even follow the tbr because I am a mood reader and I literally can not read books that are not quite in the same mood as my mood. Did that sentence even make sense? I am not certain, if it did make sense to you then whoooo, you have some skills in understanding my weird mindspeak. Kudos to you!
Anyway, since last month's tbr didn't flop completely, I thought to do this again. I should mention it as a disclaimer or something that the tbr list is tentative at best and I can't be sure that I would be able to read it at all but these are the books I do want to read since they are sitting idle on my bookshelf or on my iPad. Either way, they need to be read.
So, without any more babbling on my part, let's get into it!!
So, my current reads are pretty epic on their own and me talking about them makes me even more excited for them.
Elantris by Brandon Sanderson
So, I bought this book last month, even started reading it. I loved the writing and the pace and even the characters but because of my other current read, this sort of fell behind. I am hoping to finish it this month with no excuses. If you see that I haven't finished it, feel free to shout at me about this. Because I do love this book and I do wanna finish it.
Spinning Silver by Naomi Novik
Oh, man. The more I read this book, the more in love I am with it. Novik's Uprooted enchanted me with its atmospheric writing and its…everything really and the same is true for Spinning Silver. I admit that it is a bit hard to get into the book initially, for the maybe the first sixty pages? But once you pass that, boy, you are in for a ride. I am really loving it so far and I am about halfway through. I am really, really hoping Novik continues with these retellings because she's fantastic at it.
All Among the Barley by Melissa Harrison
So, this book was only recently approved for me on NetGalley by the publisher and as soon as I am done with either of my current books, I am going to start reading this because I really loved its synopsis. From its official blurb, this is what the book is about, set on a farm in Suffolk just before the Second World War, it introduces a girl on the cusp of adulthood. Doesn't that sound interesting and amazing? Anyway, so yeah, this one is a definite on my tbr that's going to be read because it's coming out in August itself!
The City of Brass by S. A. Chakraborty
So, I bought this book back in May and I haven't even touched it since then. How awful! I bought it because I had heard so many good things about it and this book sounds awesome, frankly. So, why I haven't read it yet? I don't know! But I want to say that I would read it this month. Hopefully! Here's to hoping. It's a medium length book, about 550 pages? Maybe this one won't be a fail, I will read it.
How to Stop Time: The Illustrated Edition by Matt Haig
Ooh, I also bought this in May and I don't know what's stopping me from reading this because I picked it up due to its synopsis. Time travel and history? Sign me up!!! So, I am hoping to read this one and satisfy my 'Time Lord' cravings through this book because the next Doctor Who season isn't here yet.
Love & Luck by Jenna Evans Welch
So, so! Earlier this year, I read Love and Gelato and I fell in love with the book. Its pace, the story and Florence, all of it made me love it to bits so when I came to know that there was going to be a sequel, I knew I was going to read it as well. So, when it did come out, I bought it back in May? June? I don't even remember any more. Anyway, it's high time I read this. Ireland is my one dreamy travel destination along with New Zealand and umm…tons of other places actually but this post is not about that! I am going to try to read this. Yeah.
His Dark Materials: Gift Edition by Philip Pullman
So, recently, I also bought this one as well! It's all three books of the trilogy in one bind-up. I haven't read this in a long, long time and I have only read it once so I don't even remember everything properly anymore. So, I should obviously go about correcting that! I know that I loved the trilogy back then and I wanna know if my feelings have changed at all! (I doubt it.) I want to at least read the first book. Or even start the trilogy this month because once I start, I know I wouldn't be able to put it down.
So, yeah, I think it's not a terribly impossible a goal for this month. There aren't a lot of books and those that are there are interesting sooo…I shouldn't have any problems reading them. Only time will tell. You will obviously see if I succeeded or failed in this venture in the monthly wrap up post. So, feel free to place bets on this.
Till the next post!! Here's a gif that perfectly imitates my glee in general over books!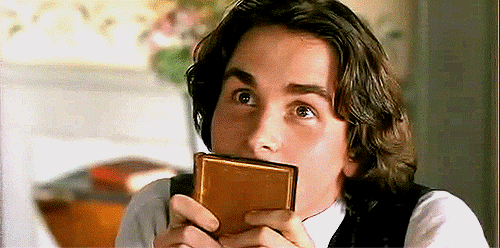 *Disclaimer: This post contains affiliate links, which means I may get a small commission for purchases made through this post.